Dear Shelley,
I just wanted to let you know that Biko has arrived safely in the Netherlands. He is very playful, hasn't stopped playing and 'being happy' since he came out of the airline kennel.
At arrival in Amsterdam, it took a while before the customs procedures were cleared and import duties were an unpleasant surprise, but for the rest, things went perfect.
On the way over to JFK, I had him sitting next to me in front of the passenger seat and he was very well behaved. Every time I stopped he would get up to attract attention, but while driving he would cuddle up in a corner.
Anna thinks he is gorgeous ...., so I may get a lot less attention going forward. I will send you pictures frequently to show his progress.
Thanks again for your flexibility yesterday.
Warm regards,
René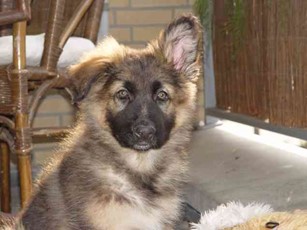 Biko at 9 weeks!