Hi Shelley!
Just wanted to send you a quick note to say how much we are enjoying the new addition to our family here in Toronto. Boris is a constant source of joy and warmth.  He loves playing with his toys, but particularly loves attacking cardboard boxes for some reason. He continues to grow in leaps and bounds, has already learned to sit, is now doing number 2 exclusively outside in the yard. Number 1 is almost always done on some newspapers by the back door.
Our journey back from Elkins Park went very smoothly, and Boris slept in his crate most of the way home.  Claire sat next to him in the back seat and rested a hand gently on one of Boris's forepaws, which he continues to need in order to get to sleep at night.
Thanks again, Shelley, for providing us with such a beautiful pup. He's everything we'd imagined he'd be and more.  Hope you and your family are all happy and healthy.
Warm regards,
Sean, Claire and Boris Le Bigfoot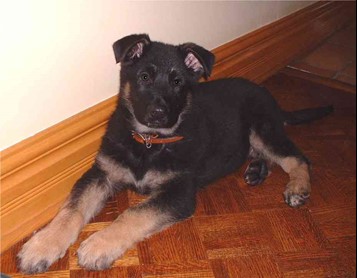 Boris at 8 weeks!