Hi Shelley,
We want to wish you and your family a happy Thanksgiving Day.
I hope all is well for you, we are doing fine.  Toby is doing so well, the vet was excited when he saw him, I never witnessed the vet so interested over a dog before. Doc said he is in perfect shape.  :)
Here are the latest photos of Toby.  He helps Armand keep the geese behind the fencing until we find the hole in the fence.  As you can see, he is very good at not getting too close and is also great at controlling himself.  He listens very well to Armand's commands.
Have a great day, take care and keep in touch...
Dorothy and Armand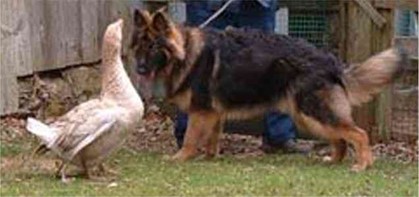 Toby at 8 months herding geese!