Hi Shelley,
How are things? We are all doing well here.
Thought you might like to see a fairly recent photo of Boris at just over nine months old. He's such a great dog, and so kind, loyal, playful, friendly, loving, and extremely intelligent.
Claire and I would like to thank you again for Boris. Everybody loves him -- dogs and humans included. The kids from the neighborhood come over at least twice a week to play with Boris in the yard. His favorite game is hockey!
We usually play in the driveway or on the tiled kitchen floor. Boris loves to start off the game by dropping the ball on the floor just like a real referee. But he also takes on the roles of defense, offence and goalie. It's really quite amazing to watch.
In fact, we now have a professional dog walker and trainer who gets a whole team of shepherds in on the hockey action. We've even thought of calling up David Letterman to suggest he have an all-dog hockey game on his show! Anyway, I must close for now.
Take care,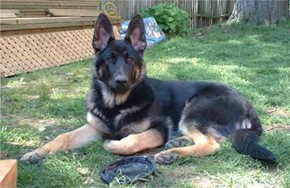 Boris at 10 months!