Hi Shelley,  
Sorry it has taken so long to get you some photos of Porscha.  The end of the school year was very busy for the kids and as well our new addition to the family has kept us going steady.
She has really started to settle down and the play biting is not as bad.  It is always in a playful manner and not intended to harm anyone.  We just know to bring a chewy toy along when we want to sit with her!!  Her ears are both up and she looks beautiful.  She also loves the water and enjoys her walks on the sandbars at the beach - she is a natural swimmer too!
Thanks for your time and I look forward to hearing from you.
Best regards,
Sandy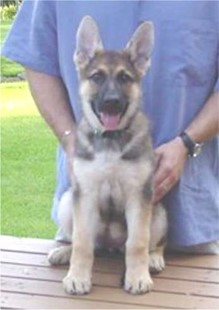 Porscha at 10 weeks!