Hi Shelley,    
I was just hoping today finds you enjoying a little time with your beautiful family & sending some holiday cheer.  I wanted you to see what a handsome little guy Orion is, he is certainly everything you told me he would be, & more.  His place in my life is so incredibly special, he has indeed turned into a cuddler (my doing) & is slowly learning not to be a biter (kids doing).  His nature is mischievous, oh yes, but with Angel the pairing is heavenly!!!   He has been a godsend to Angel who as taken to him like a mother.  Thank you so much, again!    
Orion is going to school now, just manners & play time, is a little shy but excels in training, for his age.  We went into Chicago to the AKC Preliminaries (for the show in February) & he was outstanding in the hoards & hoards of people.  Seems like he is a people magnet, as we made our way through the "Oh my is he cute" & the "may I pet him?"  he did quite fine.  I personally think he had way too any treats, but he didn't mind (as he fell asleep in my arms for the finals).  I spoke with handlers from all over the world & even had him assessed by Phil, the man who owns Dallas.  In Chicago, Dallas is quite a familiar name & I was honored that this man took a liking to little Orion & me.  Orion got along with everyone & every dog he could nibble on & it was then I knew our future was good.  I am engaging in my practice of stewarding with more shows, it is an interesting field to discover & the people involved are committed & kind.  
Oh yes, I did decide to get another king, not a decision that surprised me.  Along the way, in a few years, we will add another, for sure.  It is the only way to go. Thank you again, hope all is well & thought you'd like to see Orion's latest.  
Happy Holidays to you, the kids, your mom & husband,  
Kathy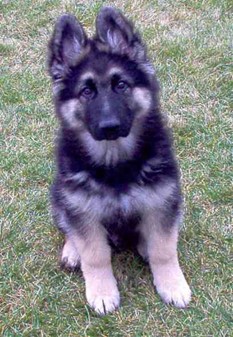 Orion at 13 weeks!