Hi Shelley:  
Frankie is a wonderful shepherd.  Sweet, passive, cooperative, gentle, loving and a happy dog.  Burt got very lucky.  She doesn't cry, complain nor demand.  She definitely is not the "alpha" dog.  She plays so gently with my 55 pound golden, of which she now weighs more than.  She turned out to be the perfect dog for Burt.  She is so calm!!  
I adore her sweetness.  She  is  very happy, and  very spoiled with love and STEAKS.  
Have a great holiday week-end.  
Shelly (Burt's friend)  
p.s. hope the photo does her justice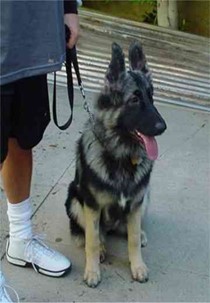 Frankie at 5 months of age!